Welcome to Roscoe Primrose's 99 Jeep TJ Page!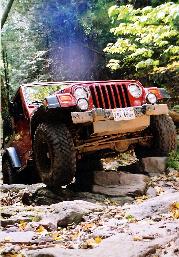 This page is dedicated to the inital mods of my first 99 Jeep TJ, and describes the modifications I've done to it to make it more off-read capable. My TJ started life with stock 30" tires on Gambler wheels, Dana 35 rear-end with factory trac-lock, 4.0L, 5speed, hard-top, air. Since then, I've installed an Air-Raid throttle body spacer, a Rancho 2.5" TJ Rockcrawler suspension lift (see a good installation writeup here) along with RS5000 shocks. Also installed a Tri County Gear TJ rear housing brace.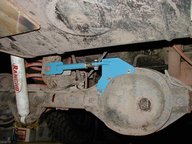 To make use of the added height, BFG 33x12.50R15 Mud Terrain KMs on American Racing AR767 15x8 wheels. For protection of the steering box and bottom of the radiator, I also installed a Tomken tie-rod skidplate. A Garmin Streetpilot GPS and a Cobra 75 WX ST remote-mount CB with a Firestik 3' fiberglass antenna make up the electonics complement. Xenon fender flares keep the extra rubber under cover. Later in this TJ's life I installed an NP435 four-speed with a granny first gear, a flipped 4:1 Dana 300, (97:1 crawl ratio) and a belly-up skid plate. A Super-35 kit w/Detroit locker in the rear, and a Lock-Rite in the front rounded out the mods. Unfortunately, a long period of unemployment forced me to sell this TJ...

Administrivia: